Everything James M. Bello and Associates has worked on can be boiled down to three words: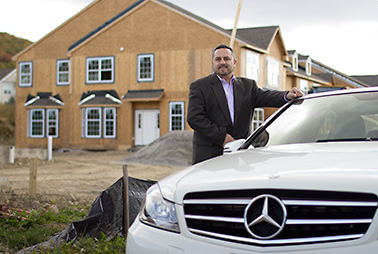 Your complete satisfaction.
Our family-run business was founded in 1985. Since then, we have hired only crews proud that each of our homes reflects their skill and hard work. And each of the homes they build makes a statement about you—the homeowners.
When you choose to invest in a custom-built home, you expect a builder who will be responsive before, during and after the building process.
So how we work is simple:
We build your home on the site you select. You may have your own lot, or ask us to help you find a special location. Our representatives know where to find the best sites—one that will suit your needs. You may prefer to be near the water or the woods. Perhaps you want to be near town and shopping.
Once your location is selected, we'll work with you to look closely at the design you have chosen. We encourage you to modify the design to accommodate you family's lifestyle. Taking the time to carefully consider your home's interior design and layout before building can greatly enhance its enjoyment and your satisfaction for years. We will work with you to help decide such questions as: Shower or tub? Special bookshelves? A room enlarged or added?
Our designers will prepare drawings for your review. Our consultants will help you select your floor coverings, tile, paint colors, cabinets, countertops and more.
Before you move into your new home, we will make every effort to ensure it is complete. We don't want a "few loose ends to tie up next week" anymore than you do. We encourage our clients to allow us to correct all items in the final compliance inspection before we deliver your home.
Should any problems occur during the 12 months after you close on your home, our full-time service personnel will schedule appointments with you to make any necessary repairs. Your new home's warranty is considered one of the best in the industry. If you believe at any time within the warranty period that a problem in your home is a result of a defect in the original materials or workmanship, please contact us immediately.
The simplicity and comprehensiveness of this policy reflects our confidence in the integrity of our construction.
A home that is carefully crafted to our exacting quality standards will pass the test of time; this too is a hallmark of homes built by James M. Bello and Associates.